Contents
What's new
Contribute to this wiki
To write a new article, just enter the article title in the box below.
Not sure where to start?
Featured article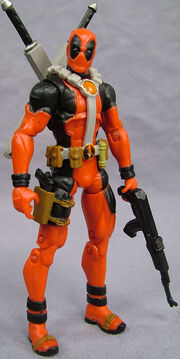 Wade Wilson was a powerful mercenary with enhanced strength, speed, stamina, and a regenrative healing factor, though the nature of said power is unstable. Deadpool uses an unknown means to teleport and wields an arsenal that would even make Frank Castle jealous, including dual katanas, pistols, rifles, knives, sais, grenades, a massive energy cannon, and a robotic sheep with a built in laser cannon. He will never shut up, ever. Not that anyone's complaining.
To read the rest go to Deadpool (Universe 2009)
Ad blocker interference detected!
Wikia is a free-to-use site that makes money from advertising. We have a modified experience for viewers using ad blockers

Wikia is not accessible if you've made further modifications. Remove the custom ad blocker rule(s) and the page will load as expected.