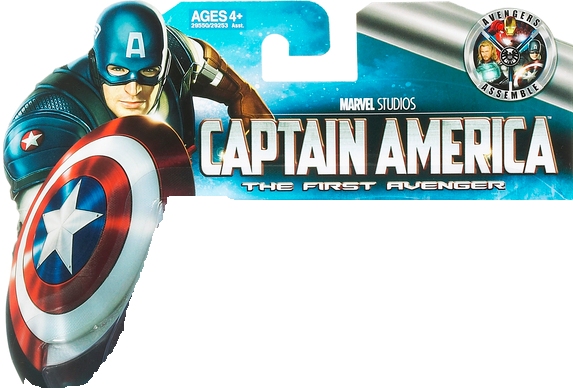 The Captain America: The First Avenger Toyline is based on the movie of the same. It is in the 3 3/4" scale and ties into Iron Man 2, Thor and Marvel Universe. The series is divided into Comic, Concept and Movie banners, but leans more to Comic figures, like the X-Men Origins: Wolverine line, in contrast to the the Thor: The Mighty Avenger toyline.
Many of the Captain America figures come with "action feature shields", foregoing comic-accuracy to include extra parts or allow for splitting the shield in half. The series is also notable for including some of the first realistic vehicles in the 3 3/4" line, not counting gimmicks like the Red Vortex or the Spider Four Wheelers.
01- Ultimate Captain America (Comic)
02- Heavy Artillery Captain America (Comic)
03- Battlefield Captain America (Comic)
04- Winter Soldier (Comic)
05- Heroic Age Captain America (Comic)
06- Captain Britain (Comic)
07- Super Combat Captain America (Movie)
08- Red Skull (Movie)
09- US Agnet (Comic)
10- Crossbones (Comic)
11- Winter Combat Captain America (Concept)
00- Jungle Trooper Captain America (Concept)
00- Night Mission Captain America (Concept)
00- Marvel's Hydra Armored Soldier
Deluxe Figures
Edit
Captain America- Air Assault Glider
Captain America- Paratrooper Dive
Hydra Soldier- Dark Threat
SHIELD Assault 4X4 w/ Captain America (Comics)
SHIELD 4X4 Variant (Movie)
Captain America Cruisers
Edit
Captain America Power Charge Cycle
Captain America Trail Trooper
Related Lines
Edit
Ad blocker interference detected!
Wikia is a free-to-use site that makes money from advertising. We have a modified experience for viewers using ad blockers

Wikia is not accessible if you've made further modifications. Remove the custom ad blocker rule(s) and the page will load as expected.